MicroBase Plus Assessor Maps
As a pioneer in digitized assessor maps 30 years ago, MicroDecisions stills provides state-of-the-art parcel maps. With MicroDecisions' Assessor Maps service, high resolution assessor maps are available online, allowing you to scroll through all of the parcels in your county in just minutes! You can print an entire map or "zoom in" on the portion you need. You can annotate the maps, save them to disk, or you can paste maps into other documents before printing, and emailing maps is a breeze.
And our Assessor Map product is the most advanced in Florida. Rather than converting a high quality vector map to a low quality bitmap (raster) to download, we provide you directly with screen and printer optimized vector maps, that zoom and print maintaining the same high quality. Once accessed the first time, the whole square mile each map covers is available to you immediately online and offline.
Key Benefits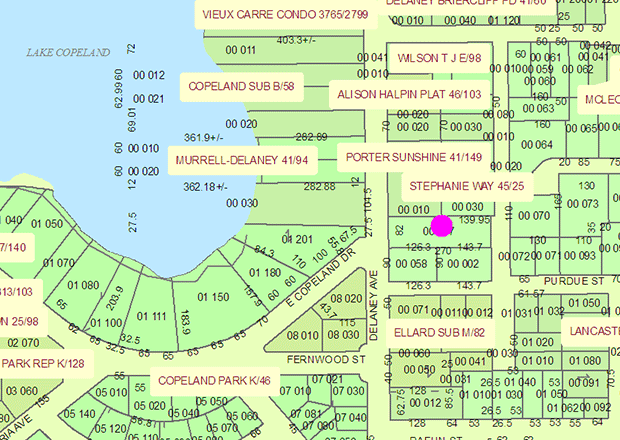 Unprecedented clarity and accuracy.
Export to other applications.
Annotate.
Scroll, zoom, print, measure distances.
Availability
We have maps for the following counties:
Alachua, Bay, Brevard, Broward, Charlotte, Citrus, Clay, Collier, DeSoto, Duval, Escambia, Flagler, Hardee, Hernando, Highlands, Hillsborough, Indian River, Jefferson, Lake, Lee, Leon, Manatee, Marion, Martin, Miami-Dade, Nassau, Okaloosa, Orange, Osceola, Palm Beach, Pasco, Pinellas, Polk, Santa Rosa, Sarasota, Seminole, St. Johns, St. Lucie, Sumter, Volusia, Wakulla and Walton.
Annual Pricing
Service includes unlimited online access to download maps. Maps cannot be viewed without the software provided.
Please see Pricing.